View

VIEW Micro-Metrology, located in Tempe, AZ, is the combination of VIEW Engineering and Micro-Metric, two pioneers in high precision video measurement systems – each with over 30 years of proven performance.
VIEW Engineering introduced the world's first video coordinate measuring machine – the VIEW RB1 – in 1976, and has continued to lead the industry with innovations in optics, lighting and imaging software.
Micro-Metric was founded in 1979 and has produced some of the world's most precise optical metrology systems for wafer, slider, flat-panel display and electronic assembly applications.
In 2005, VIEW Engineering merged with Micro-Metric to form the VIEW Micro-Metrology division of Quality Vision International, Inc., the world's largest vision metrology company. The combined experience of VIEW Engineering and Micro-Metric enables leading technology companies in micro-manufacturing, data storage, semiconductor, solar cell, and MEMs to develop and control critical manufacturing processes and product quality while giving customers access to a worldwide network of enginerring, manufacturing, and software resources available through QVI.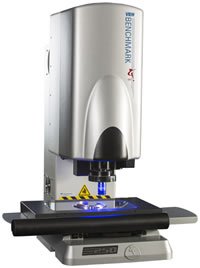 A compact, high-accuracy dimensional metrology system.
The VIEW Benchmark™ 250 is engineered for high accuracy in a compact benchtop configuration complete with VIEW's dual magnification optics and metrology-grade construction.
The Benchmark 250 is designed for use on the production floor to provide precision measurements for process control. Its compact size and powerful software make the Benchmark 250 a versatile measurement system that can be easily configured as either a dedicated gauge for critical dimension measurements or as a general purpose vision measurement system for routine quality monitoring.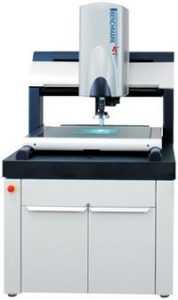 High-value, high-accuracy dimensional metrology system.
The VIEW Benchmark™ 450 delivers VIEW performance with generous measuring envelopes. Benchmark 450 embodies the ideal configuration of SMT assembly metrology when configured with VIEW's unique Elements software.
The Benchmark 450 handles large form-factor parts with high precision in a rugged, shop-floor configuration with a small footprint. Its fixed bridge design separates the X and Y axis motions, allowing each to operate without any influence on the other. This arrangement provides the maximum mechanical integrity and accuracy in the stage motion.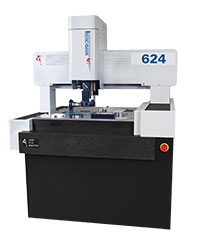 Large transport, 3-axis measurement system.
The VIEW Benchmark™ 624 is a large capacity, fully automatic, 3-axis dimensional measuring system. The Benchmark 624's moving bridge design creates an open work envelope for easy access to the measurement area and allows the part being measured to remain stationary at all times.
With its massive granite base and high precision fixed lens optical system, the Benchmark 624 provides the accuracy and reliability that you expect from a world-class metrology system.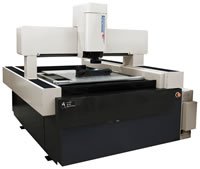 Extra large area dimensional metrology system.
The VIEW Benchmark™ XLT delivers VIEW performance and reliability in a large travel, non-contact, high precision metrology system.
The Benchmark XLT is designed to handle large area parts or nested groups of smaller parts using its moving bridge design. Advanced image processing allows the Benchmark XLT to operate with high speed, accuracy and robustness.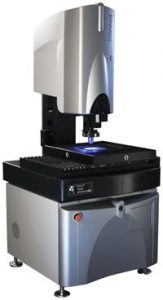 The Pinnacle 250 offers the highest accuracy and fastest speeds of the VIEW  line. Its high performance and compact footprint make it VIEW's most popular model.
The Pinnacle features a damped granite base and column, with passive vibration isolation. A precision compound X-Y stage with high-speed linear motor drives provides velocity of 400 mm / sec and acceleration of 1000 mm / sec2. This combination of high acceleration and high velocity enables the high throughput required for near-line process monitoring. The rugged and compact design of the Pinnacle lends itself to installation in either a Q/A lab or at an inspection station in the manufacturing line.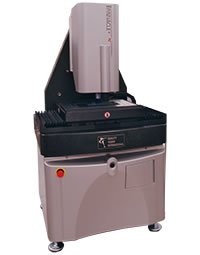 Ultra-high accuracy dimensional metrology system.
Pinnacle+ Plus elevates Pinnacle performance to the next level. Pinnacle+ Plus features a rigid granite optical support structure and a high performance Z-axis motion assembly to produce the lowest possible uncertainty on micro-electronic parts and assemblies/
State-of-the-art linear motion control technology provides the fastest, most reliable platform available for high capacity operation in production environments ranging from clean rooms to factory floors.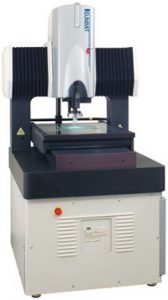 Large area, high-accuracy dimensional metrology systems.
The VIEW Summit systems are designed for components requiring a large work envelope and high accuracy. Based on the same core technologies of optics, high speed linear motors, and high resolution scales used in the VIEW Pinnacle, the Summit features a fixed bridge design. Separate X and Y axis motion systems ensure that neither influences the mechanical integrity of the other, while also enabling easy loading and unloading of large parts.
Available in three ranges of travel, the VIEW Summit is ideally suited to for measurement of large footprint parts, such as PCBs, stencils, flat panel displays, etching sheets and mark patterns, or nested groups of smaller parts. The Summit provides very high accuracy and high speed for shop floor process monitoring and quality assurance applications.
---

Innovative Measuring Systems has the experience, knowledge and capability to assist with all of your measuring needs. Let's set an appointment today to find out how we can assist you find the right tool to meet your measuring challenges. With our combination of 34 years of manufacturing, process and quality experience, we can help you find the right product and process to complete your project.
521 S 48TH ST. Suite 106 | Tempe, AZ 85281 | (602)527-5488 | sales@innovativemeasuring.com