CCP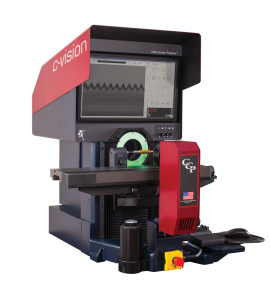 Certified Comparator Products (CCP) offers a range of new comparators, vision systems, and PreOwned optical comparators with the most advanced technology available for profile projection.
Our new comparators and vision systems combine the best in hardware, optics, illumination, and software to meet the needs of today's manufacturers, while our PreOwned comparators serve as cost-effective solutions to your application needs.
CCP has a reputation for providing outstanding service in the field. It is the largest field calibration service in Ohio and the surrounding states with more than 2,200 measuring systems and machine tools on regular service contracts.
CCP is a division of Quality Vision International, Inc., the world's largest vision metrology company.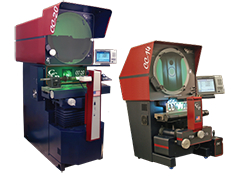 Optical Comparators
Optical comparators from CCP exclusively offer TruLight® LED lighting for bright, crisp object illumination. High brightness LEDs offer low power consumption, cool operation, extended light life, and continuously variable intensity control.
CCP comparators combine cutting-edge optics, lighting, and automation technologies for enhanced productivity and profitability. The benchtop and floor model offerings are the industry's best value and performance solutions for non-contact shop floor measurement. CCP comparators range from manually operated 14-inch models to fully motorized 30-inch models with a high capacity stage.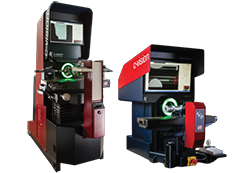 CCP Vision Systems from QVI – The Best of Both Worlds

The c-vision™ Video Contour Projector ® combines the speed and accuracy of a traditional video measurement system with the rugged capacity of an optical comparator to create a high accuracy shop floor measurement solution.
Tough. Fast. Accurate. Reliable.
CCP c-vision systems are tough enough for the shop floor and offer large screens for maximum measurement versatility.
A large field of view up to 30 inches and Measure-X® 2-D automated measurement software mean fast, accurate solutions for the most demanding measurement tasks. The innovative optics allow for seeing the big picture while the digital zoom allows for measuring the fine details.
As standard, CCP c-vision systems offer fully telecentric, upright, and unreversed images.
CCP measurement systems have a well-deserved reputation for solid construction, high accuracy, and long service life, making them a popular choice for production environments.
CCP procures, remanufactures, and certifies optical comparators and profile projectors. Now CCP has the world's largest inventory of Pre-Owned optical comparators. We accept older model comparators as trade-ins, and we buy surplus comparators. We also offer a search and locate service for clients to find a specific machine using our extensive network. All CCP Pre-Owned comparators undergo an exhaustive service check, and come with our CCP Satisfaction Guarantee right to return for full credit policy